We are specialists in commercialising
the best in mature beef cuts.
National Ox Meat, Farmhouse Beef, Central European Beef, Eastern European Beef, Galician Beef.
We have cold storage rooms equipped to monitor humidity and temperature, key factors in getting the very best from our meats. Our approach to meat aging and affinage is unique.
Our ties to the Basque land and culture, famous for its cider houses, bone-in ribeye steaks and excellent grilling techniques, mean that we are perfectly familiar with the steps required to obtain the desired final result.
"Ties to the Basque culture and tradition,
more than just gastronomy"
The Basque Bone-In Ribeye steak
and our cider
The cider houses that make their own cider are known as TOLARES (Tolare sagardotegiak) and are indicated as such at their entrances. The season starts in mid-January and ends in May. This is when the cider maker, to the cry of TXOTX, invites us to taste the cider (sagardoa) directly from the barrels (kupelas)..
TXOTX began as a private tasting between buyers, restauranteurs, gastronomic societies, traders and the cider maker (sagardogile). Taking something to eat along with them (ribs, bone-in ribeye steaks, etc.), these people would head for the cider houses to taste and make their choice from the different barrels.
With time, the cider houses (sagardotegiak) modernised their kitchens and added charcoal grills to invite wider participation. Today they are part of a hugely celebrated gastronomic event running throughout the winter and springtime in the Basque Country.
The classic cider house menu is salt cod omelette, fried salt cod with peppers and the charcoal-grilled Basque bone-in ribeye steak (the 1kg TXULETA). For dessert, cheese and local walnuts.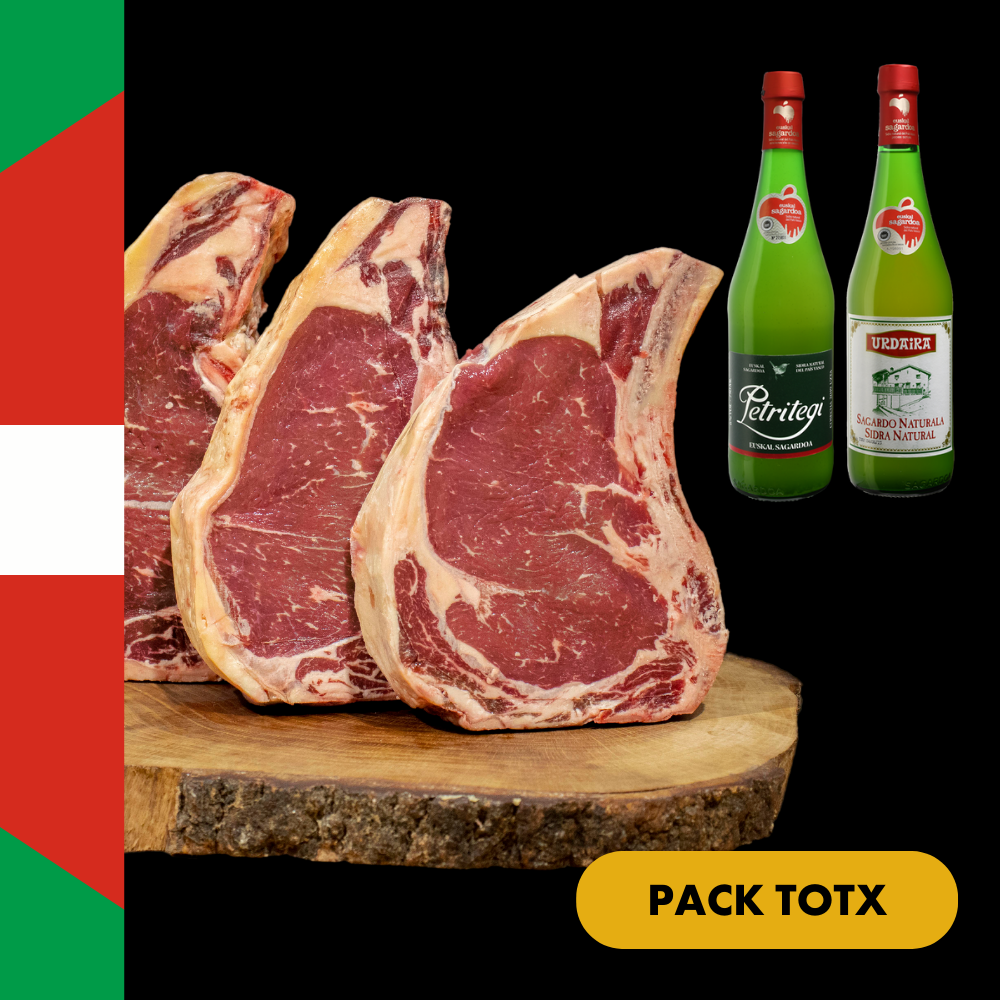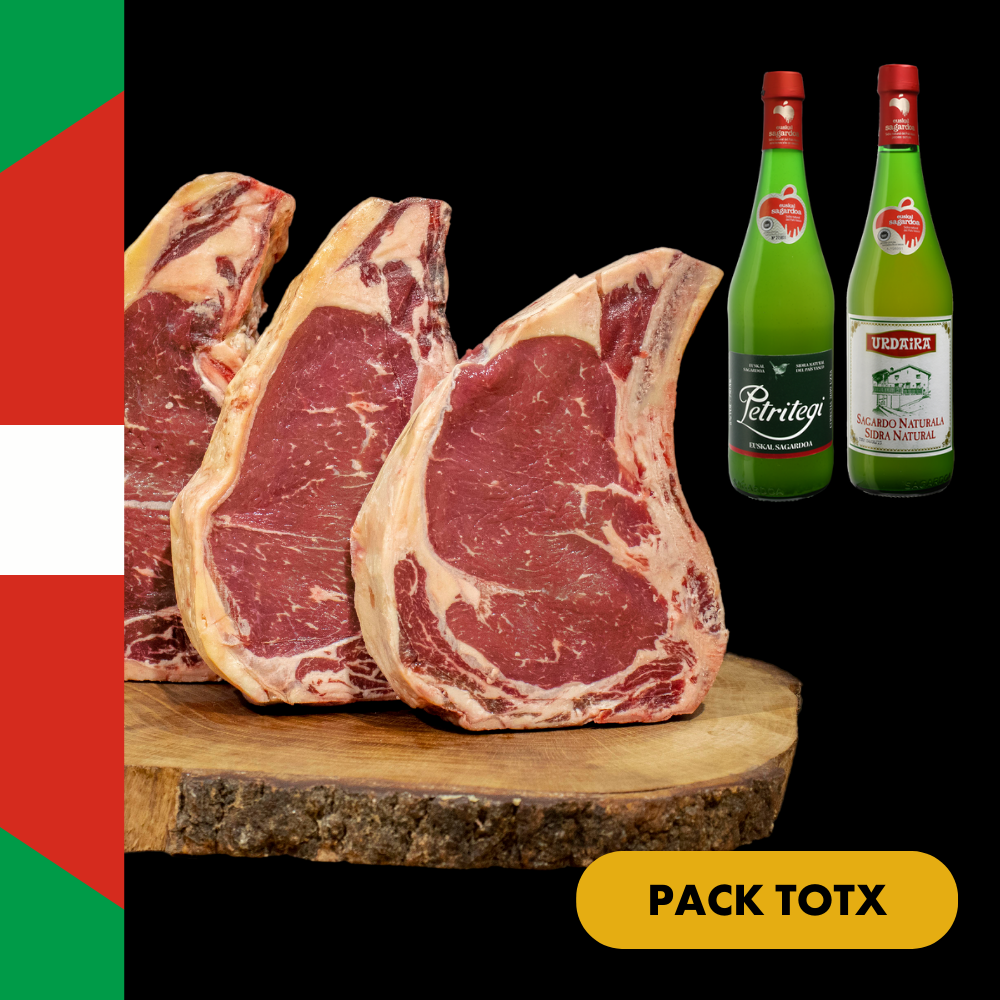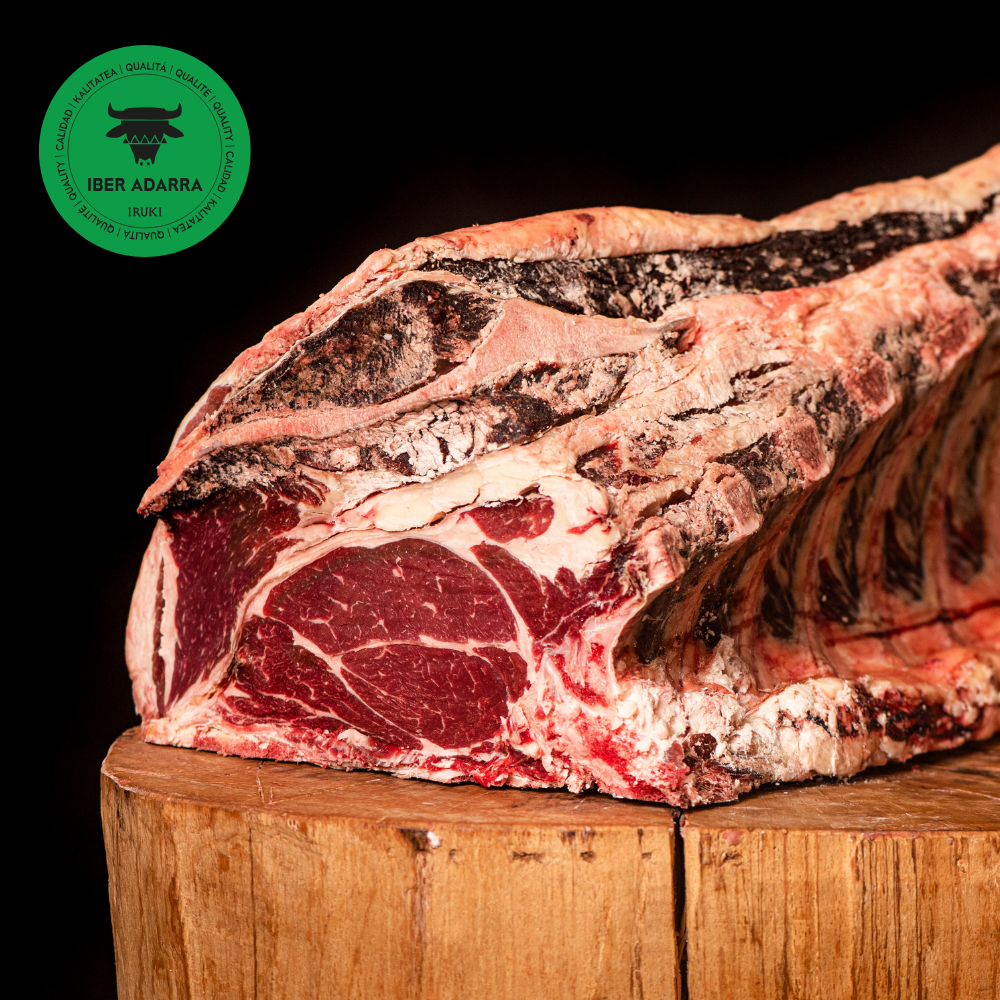 Enjoy the best red meat, the best pastures, the best cattle, the oxen, their chops… the bone-in ribeye steak culture.